Incentivized Public Devnet for Perp Pools By Fluo
Experience the alpha first hand on Demex's Perp Pools by Fluo. Join the incentivized public testnet!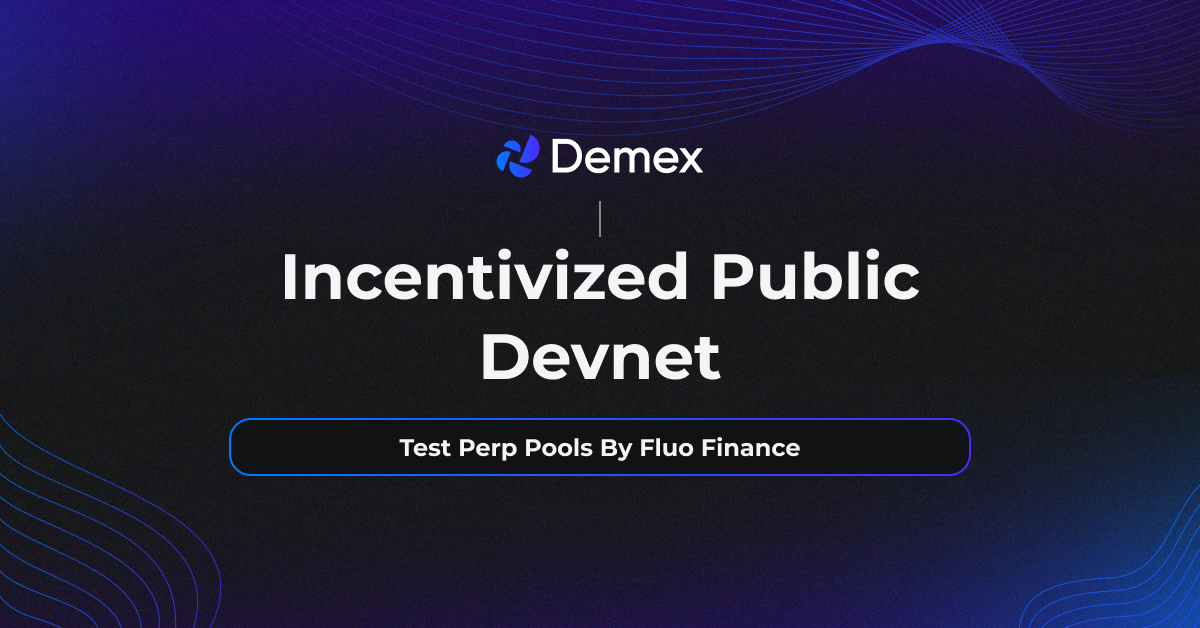 Join the Action! 🚀
Experience the Future of DeFi Before Anyone Else! Did you miss the lowdown on Demex's game-changing Perp Pools? No worries, catch up on our previous blog post!
Get Exclusive Access to the Alpha! 🔥
We're gearing up for a thrilling incentivized devnet, and we want YOU to be a part of it! Be among the first to witness this revolutionary feature before it hits the crypto market. Your feedback is invaluable, and we're committed to making your experience exceptional. So, don't miss out on this exciting opportunity to join the devnet!
🏹 Access Devnet: https://dev-app.dem.exchange/ (select Carbon Devnet in the network selection tab)
⏰ Duration: 17th August - 27th August, 9AM UTC  
🎯 Limited Slots Available: Only the first 5,000 unique wallets to participate in the Devnet will get exclusive access. So, secure your spot now and dive into the Perp Pools action!
🛠️ Devnet Instructions: Find all the details here
Scope of the Devnet 🔍
Mint USD and SWTH in the Balance Page: Get ready to play with testnet funds and explore the full potential of Demex's Perp Pools! You need USD to deposit liquidity in the perp pools. and you need SWTH as network fees for signing transactions.

Deposit USD in the Perp Pools: Earn CLP, which offers attractive rewards like maker rebates, funding rates, and a share of traders' PnL!

Stake CLP in Base Vault: Amplify your rewards with esFLUO and maximize your gains!

Trade on BTC and ETH PERP Markets: Use the newly added liquidity supported by the perpetual pools and see market-making fees roll in!

Withdraw USD from the Perp Pools: Test the seamless withdrawal process and feel the power of Demex at your fingertips!
Join the Demex Trading League 🏁
We're firing up the Demex Trading League, Devnet Edition!
Here's your chance to play around with testnet funds, trade perpetuals and WIN REAL MONEY! You heard that right. The rules are simple: Trade every day on BTC-PERP and ETH-PERP markets, earn points from each trade, and climb up the leaderboard!
Join now: https://dev-app.dem.exchange/competition
Rules: https://guide.dem.exchange/community/incentivized-devnet-event/demex-trading-league-devnet
Why should you Participate? 🪂
By participating in this thrilling devnet, you qualify for the $FLUO airdrop! You read that right – exciting rewards are coming your way! Find out more details about the $FLUO airdrop.
We Want to Hear From You! 🗣️
Your opinion matters! Tell us what you think about the Perp Pools feature and help us shape the future of DeFi.
✅ Did you understand the feature?
✅ Have you come across or used something similar before?
✅ Can you visualize how you can earn market-making fees as a liquidity provider?
✅ Found any bugs? Let us know!
✅ Have UI/UX suggestions? Drop an image or reference below!
💬 Give us your feedback here!
Get ready to dive into the thrilling world of Demex Perp Pools! Don't miss out on this exclusive opportunity to experience the future of DeFi firsthand. Join the incentivized devnet and let's take liquidity to a whole new level. The clock is ticking – see you there! 💪🚀