Demex Launches DEC-USD Market, Empowering the Web3 Economy
Demex and Decentr form a strategic alliance to enable trading $DEC using a decentralized exchange and decentralized web browser.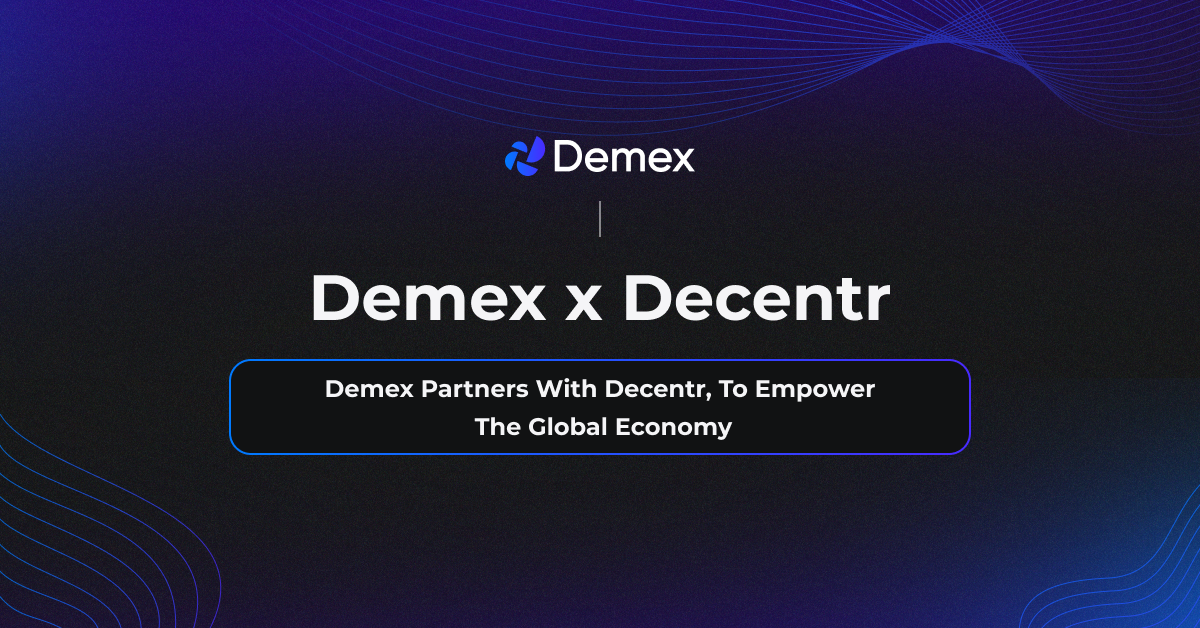 Demex, a powerful cross-chain decentralized exchange (DEX) and all-in-one DeFi hub, announces the launch of the DEC-USD spot market. This move enables users to seamlessly trade the native token of the web3 economy, $DEC, on Demex using the web3 browser, Decentr. This partnership marks the beginning of an exciting strategic collaboration aimed at delivering a true DeFi experience to users worldwide.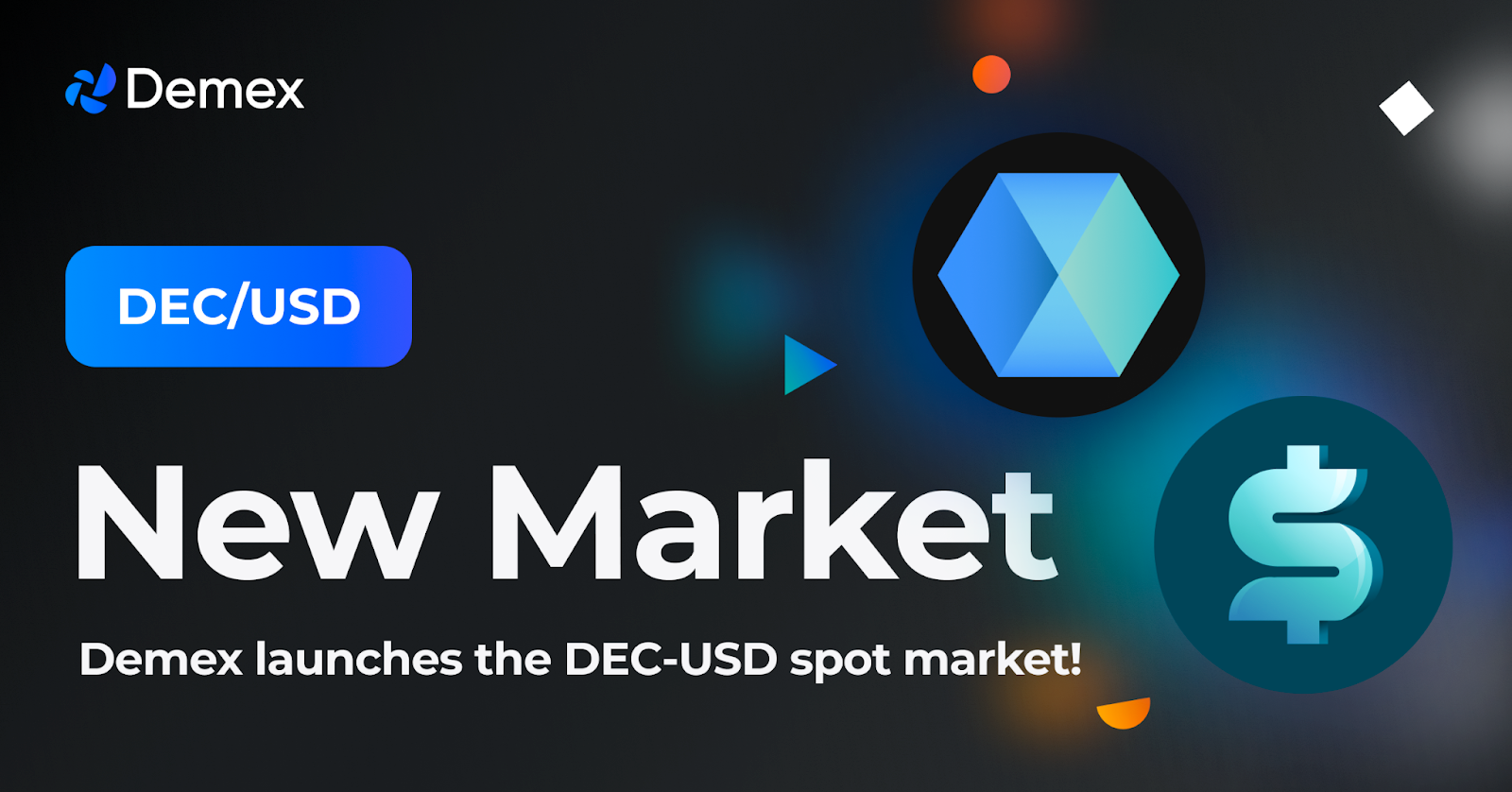 Empowering the Web3 Economy
Decentr, a pioneering web3 browser and the driving force behind the $DEC token, seeks to transform the internet by placing data ownership and control back into the hands of users. The $DEC token serves as the native currency within the web3 ecosystem, facilitating secure and private transactions, incentivizing participation, and rewarding users for their engagement.
Demex Launches DEC-USD Spot Market
The launch of the DEC-USD spot market on Demex provides a significant boost to the adoption and accessibility of the $DEC token. Users can now conveniently trade $DEC against $USD directly on the Demex platform. This permissionless trading environment ensures transparency, security, and user autonomy, allowing participants to engage in DeFi activities without compromising their privacy.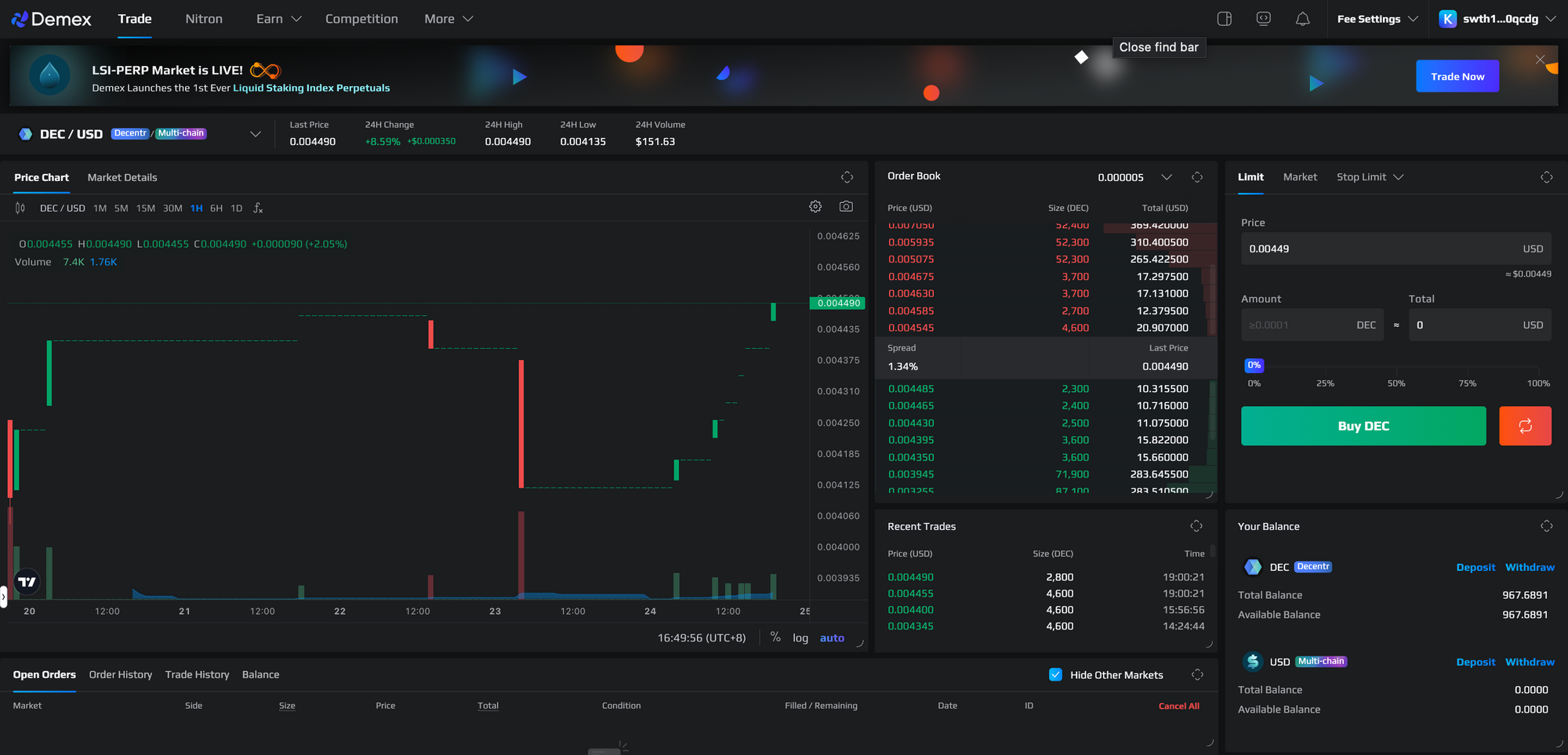 Ready to start trading?
Strategic Partnership
The partnership between Demex and Decentr represents a shared vision to reshape the financial landscape by harnessing the power of blockchain technology and decentralization. The launch of the DEC-USD spot market on Demex is just the beginning of this partnership, promising future integrations and advancements that will further empower the web3 economy. Together, they aim to redefine the boundaries of finance, promoting inclusivity, accessibility, and user sovereignty.
Conclusion
Demex has launched the DEC-USD spot market, allowing users to trade the $DEC token on their platform using the web3 browser. This partnership with Decentr marks the beginning of a strategic partnership aimed at empowering the web3 economy. Join Demex, trade $DEC, and experience the true potential of decentralized finance.