Demex Partners With Zilliqa, The Home Of ZIL
Demex is partnering up with Zilliqa, the heart of the decentralized universe to launch ZIL lending and borrowing pools, ZIL-PERP market, and a trading competition! Soon, the ZIL community can trade, lend, borrow, collateralize, provide liquidity, and earn, all on one platform, Demex!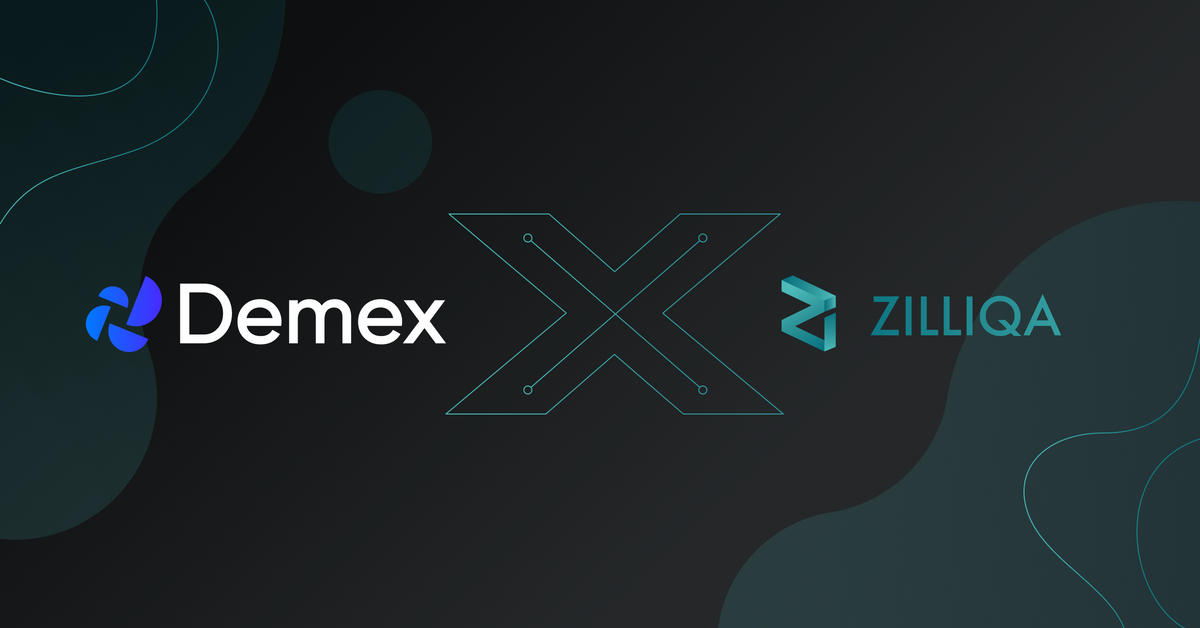 ZIL-PERP market on Demex
Traders who are strong believers in the Zilliqa ecosystem and its potential to grow further can take a long position on Demex's upcoming ZIL-PERP market. Demex is a powerful derivatives DEX, that enables traders to profit on price movement with no expiry on the perpetual contract.
Trading on Demex couldn't be easier:
① Fire up Demex, connect your wallet
② Deposit selected stablecoins that get converted to USD
③ Start trading!

Demex provides an advanced but intuitive CEX-like experience for trading. It is supported by trading charts powered by Trading View, a plethora of indicators, trading charts, order types, and more.
With Zilliqa's roadmap for Zilliqa 2.0 and promising developments on the rise, there has been a lot of positive speculation on the price making this attractive for traders to make the trade of a lifetime.
ZIL Money Market on Nitron
In partnership with Zilliqa, Demex's money market Nitron will whitelist ZIL as collateral. The Zilliqa community can use this as a platform to lend and collateralize ZIL, to unlock their capital to borrow other assets, or even mint Carbon's stablecoin USC. By lending ZIL, users also earn a lending APY from users who may want to borrow ZIL, earning HODLers a passive income.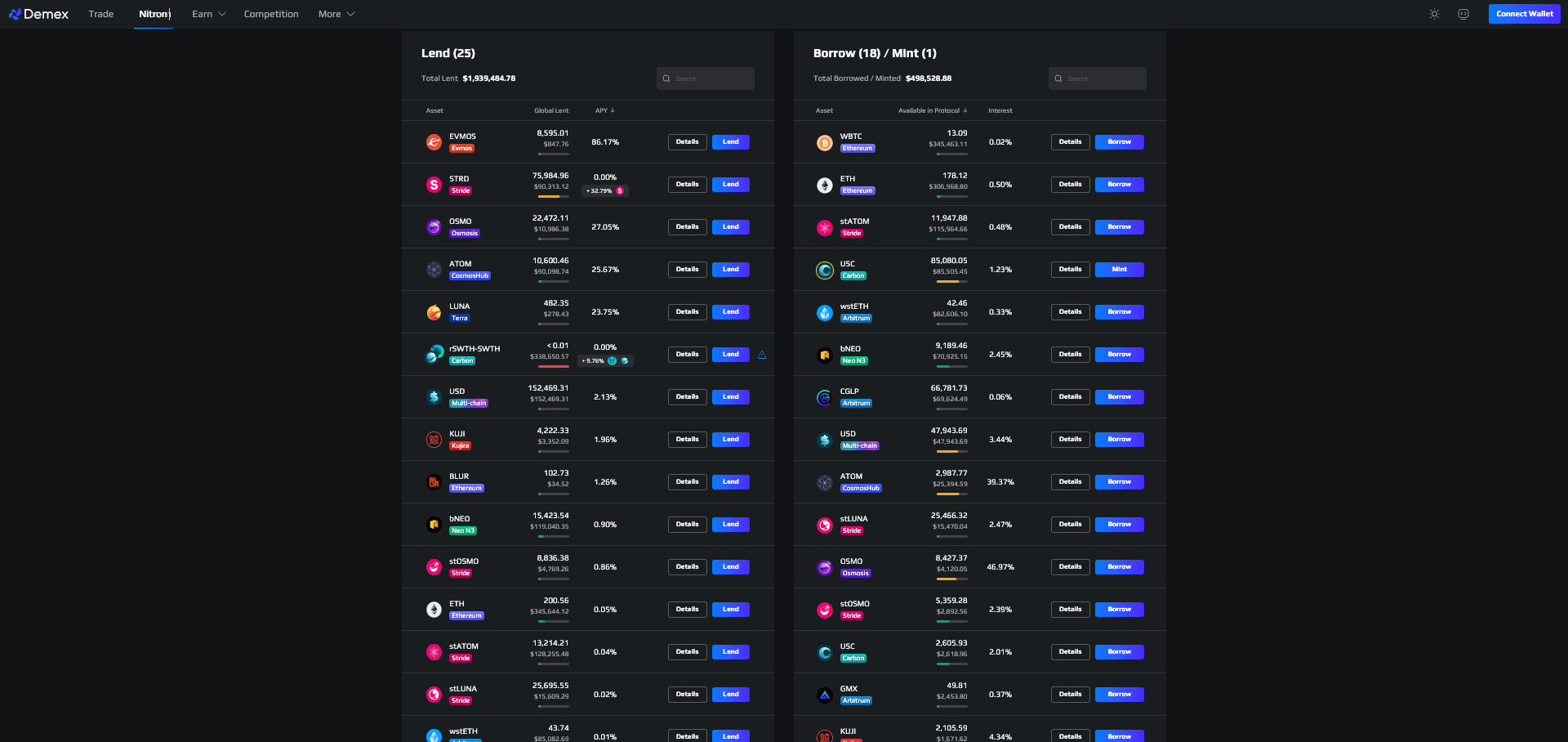 Users can also borrow ZIL on Nitron, to mint stZIL on Avely Finance to earn the staking rewards. Nitron opens up a plethora of opportunities for users to hedge their portfolios or earn more yield on their assets.
ZIL Earn-a-thon
Demex is launching an exciting competition soon, in partnership with Zilliqa! The ZIL Earn-a-thon invites all you traders to trade ZIL-PERP and compete for the highest profit ranking on the leaderboard. A prize pool of 2,220 USD is up for grabs, are you up for the challenge?

Worried about your losses? Don't worry, the first 30 registered participants will receive up to 10 USD as rebates to cover your losses. Additionally, you can earn bonus rewards by lending ZIL on Nitron!
Promising Future Prospects
Demex has been home to the Zilliqa community and assets such as ZIL and ZWAP. This partnership is a step further in the right direction to gain more exposure for the Zilliqa ecosystem. Demex and Zilliqa will continue to work together to launch stZIL and more in the near future. Stay tuned on Demex's social channels to know more to know when these launches go live!
The TDLR
The partnership between Demex and Zilliqa marks an exciting development for the ZIL community. Users can now leverage the power of Demex's platform to trade, lend, borrow, collateralize, provide liquidity, and earn, all in one place. The introduction of Zilliqa 2.0 and the availability of the ZIL-PERP market on Demex provide traders with enhanced opportunities for profit and growth. Additionally, the integration of ZIL into Nitron's money market opens up avenues for lending, collateralization, and the earning of passive income. With the upcoming ZIL Earn-a-thon and future plans for stZIL, this partnership sets the stage for a promising future for the Zilliqa ecosystem.
---
Depositing ZIL on Demex
Zilliqa community members, are you new to Demex?
Follow these steps to deposit your native ZIL or stZIL on Demex with just a few simple steps: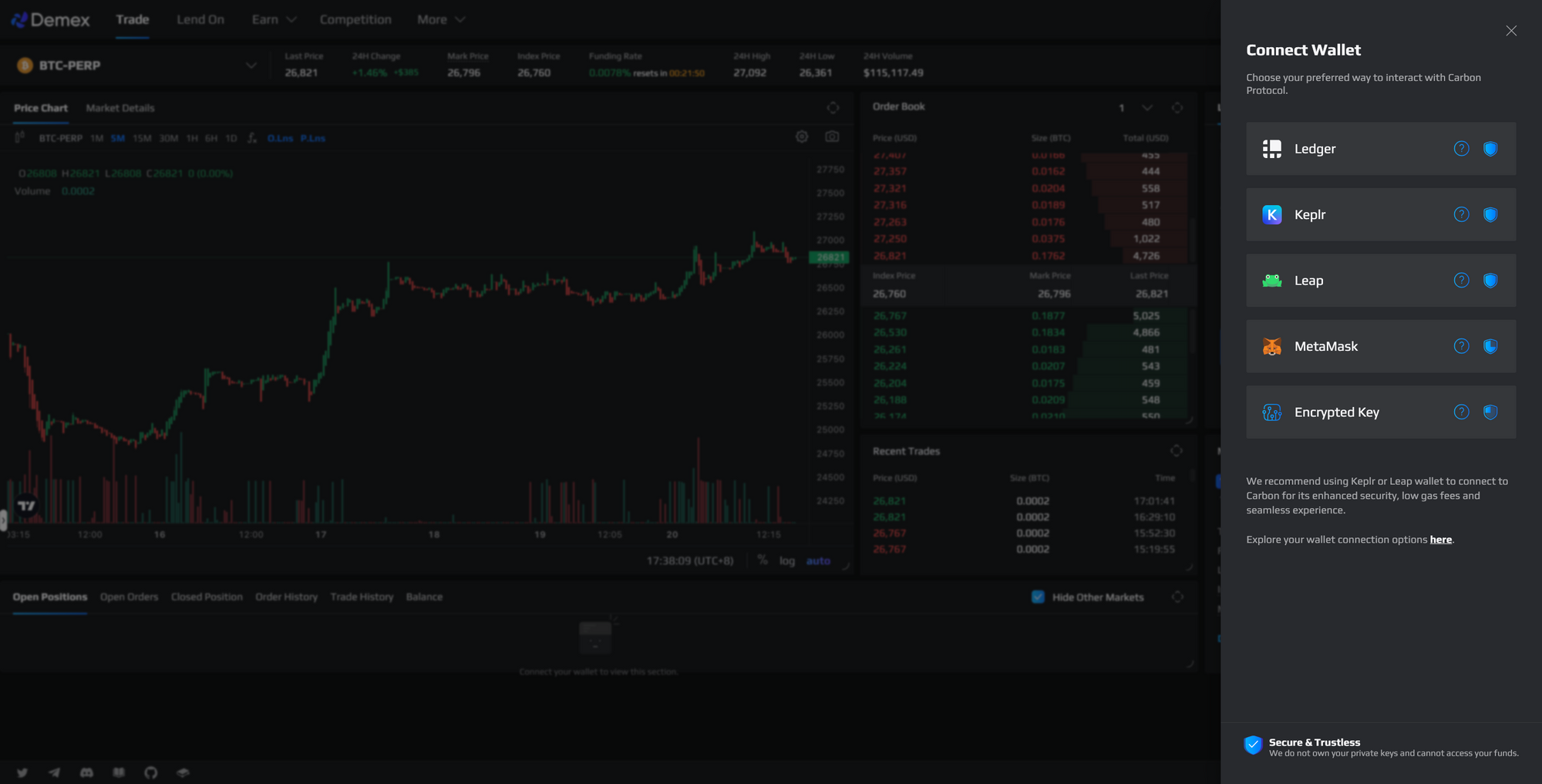 2. Head to the Balance section on Demex and search for ZIL in the Assets section.

Click on Deposit.
3. You are now on the deposit page for ZIL. Select Zilliqa from the network section. Connect your ZilPay wallet containing your ZIL and/or stZIL balance.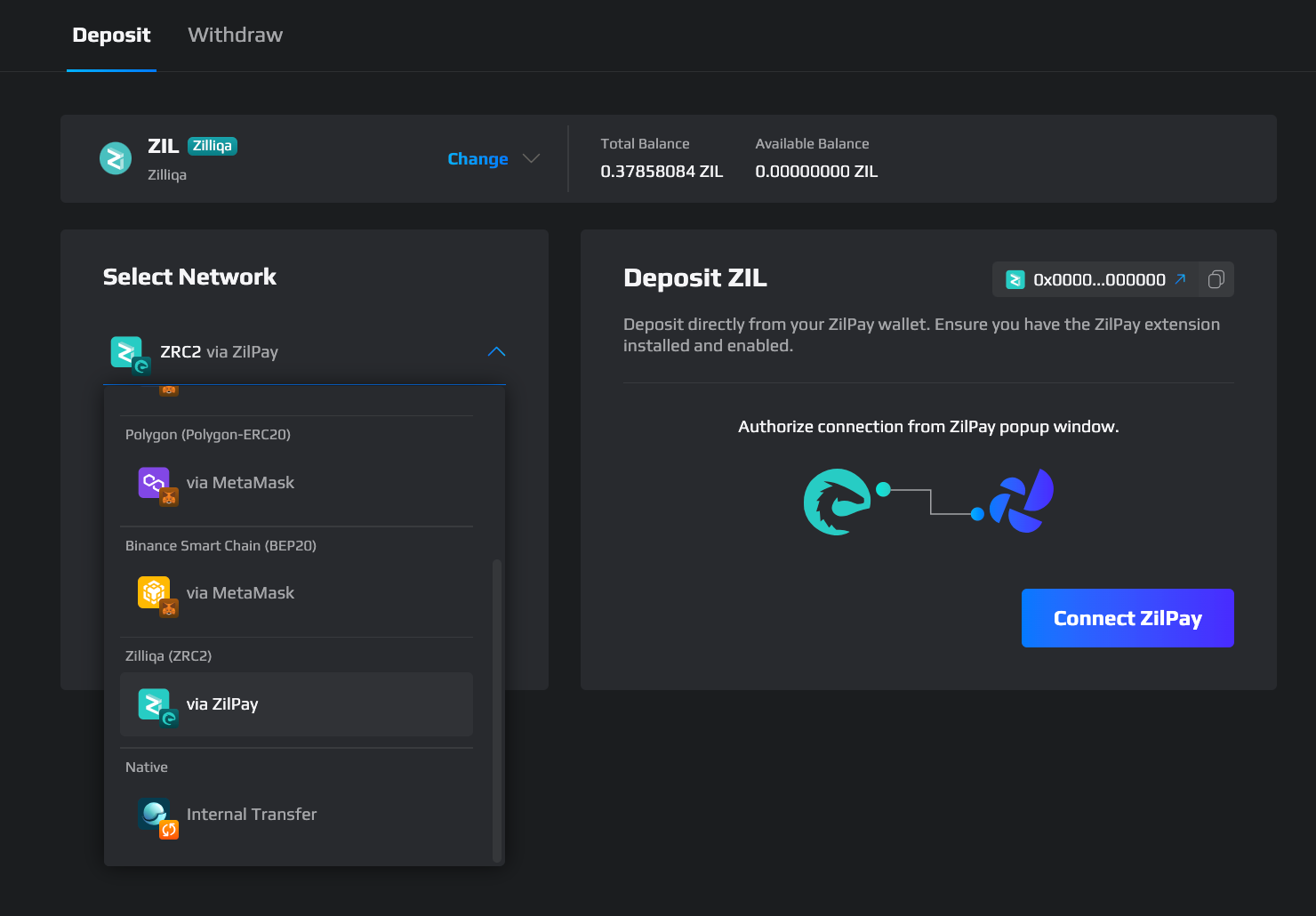 4. Input the amount of ZIL you wish to deposit and click Deposit.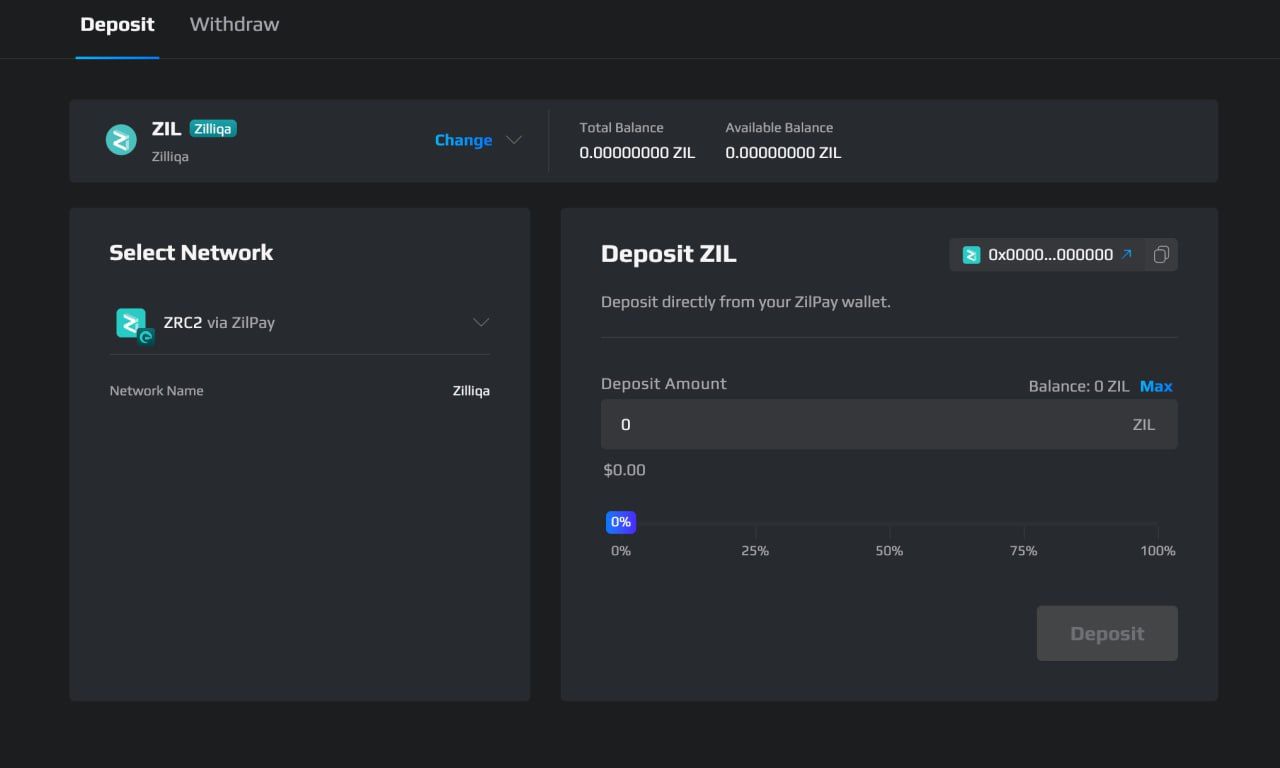 Once the deposit is processed, your ZIL will be reflected on your Balance page on Demex. You can now lend out your ZIL on Nitron, trade, etc.
---
About Zilliqa
Based on the concept of sharding and with a focus on enhancing scalability for cryptocurrencies like Bitcoin and Ethereum, Zilliqa is a decentralized platform that prioritizes speed and security. The network boasts a transaction speed that is claimed to be a thousand times faster than Ethereum.
The development of the Zilliqa cryptocurrency network commenced in June 2017, with the testnet going live in March 2018. Just over a year later, in June 2019, the platform's mainnet was launched.
With Zilliqa's impressive throughput, you can now dedicate your energy to bringing your ideas to life, without concerns about network congestion, high transaction fees, or security issues that often plague early layer-1 blockchain platforms.
Zilliqa recently announced its plan to deploy Zilliqa 2.0. Zilliqa 2.0 is set to introduce an enhanced network architecture that prioritizes efficiency, flexibility, and speed. This upgraded version will empower developers with greater control and the ability to implement dynamic updates.
About ZIL and stZIL
Introduced in 2017, Zilliqa (ZIL) coin serves as the native utility token for the Zilliqa crypto network. It plays a vital role in maintaining and operating the network, while also offering functionalities such as retention, sending, and staking.
Through ownership and staking of ZIL, users gain the ability to participate in voting for network enhancements, with the voting power directly proportional to the amount of ZIL they stake. Similar to Bitcoin, the supply of Zilliqa coin is limited, with a maximum cap of 21 billion ZIL, ensuring a finite availability.
The liquid staked derivative of ZIL, stZIL, recently launched on Avely Finance. Avely Finance is a liquid staking protocol on Zilliqa. Anyone can mint stZIL from ZIL, earning you the native staking rewards from the underlying ZIL tokens. This helps in unlocking your capital for other DeFi activities, that would have initially been locked up in staking. Hence liquid staking helps in removing the opportunity cost of the staking rewards.