Demex Lite Mode: Simplify Crypto Trading Anytime, Anywhere!
Introducing Demex Lite Mode! Trade any spot or perpetual market on the go, and experience lightning fast trades.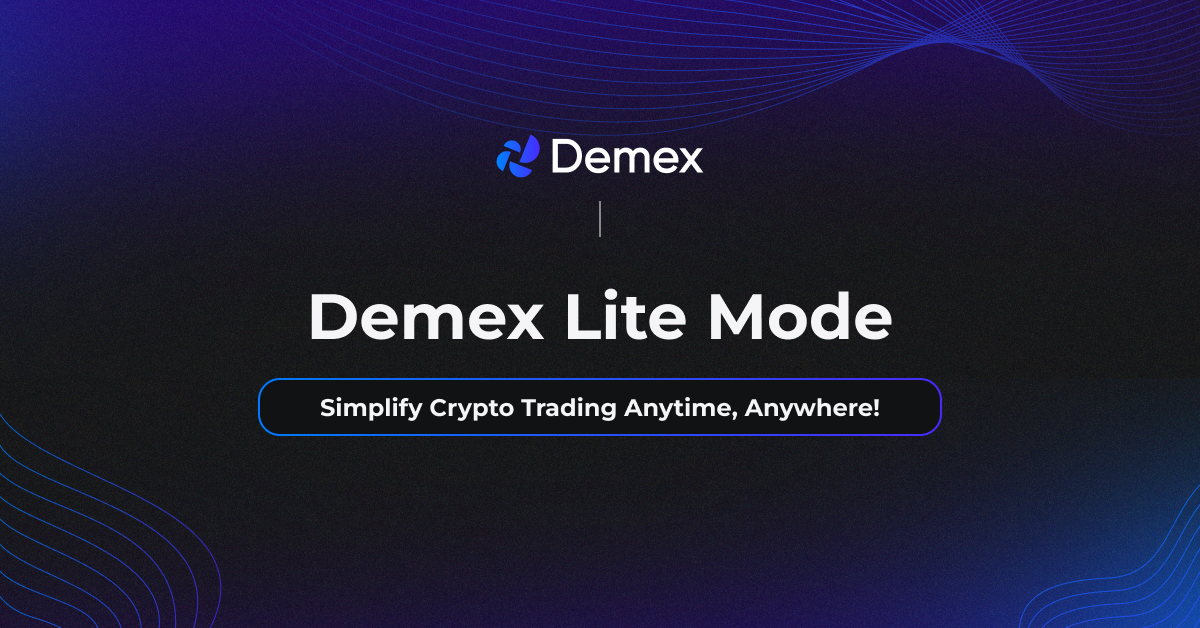 Are you looking for a powerful DEX to support trading on the go? Look no further! Demex Lite Mode is here to make trading a breeze. Explore Demex Lite Mode, exploring its fantastic features, how it benefits traders, and the differences between Lite and Pro Mode. Get ready to dive into simplicity and ease in the world of crypto trading.
Demex Lite vs. Pro Mode: Tailoring to Your Trading Style
Demex understands that traders come in all shapes and sizes, each with unique preferences and expertise. That's why Demex offers two distinct modes to cater to your needs: Lite Mode and Pro Mode. Each mode offers a tailored trading experience, ensuring everyone finds their perfect fit.
Lite Mode: Simplified Trading Bliss
Demex Lite Mode is your go-to if you're looking for a straightforward, easy-to-use platform. It trims down the clutter and offers a clean, no-nonsense interface, making it perfect for both beginners and seasoned traders. You can quickly check market prices and execute trades.
Lite Mode keeps things simple while retaining crucial features like live charts, leverage options, estimated price impact, and estimated liquidation prices. It supports all of Demex's spot and perpetual markets, and the best part? It's fully optimized for mobile, so you can trade on the go!
Pro Mode: Unleash Your Trading Expertise
If you're a seasoned pro or seeking a more sophisticated trading experience, Demex Pro Mode is your playground. Packed with advanced charting options, diverse order types, and customizable trading strategies, Pro Mode caters to the needs of professional traders. Fine-tune your trading strategies using Limit orders, Stop Limit orders, and Stop Market orders for precise execution and risk management.
Simplify and Speed Up Your Trades
Demex Lite is all about simplifying your trading experience without losing out on the essential functionality you need. Here are the key benefits that make Demex Lite a great choice:
Intuitive Interface
Demex Lite offers a clean and straightforward interface that's a breeze to navigate, even for beginners. No complicated jargon or overwhelming visuals—just what you need for efficient trading.
Mobile-Friendly Trading
In today's fast-paced world, you need to trade on the go. Demex Lite understands this, providing a fully mobile-optimized mode, so you can trade anytime and anywhere, all from the palm of your hand.
Faster Trading, Less Complexity
With Demex Lite, you can focus on market prices and execute trades quickly. Fewer distractions mean you can make those snap decisions without losing valuable seconds. Plus, the reduced complexity lets you dive into trading with ease.
Essential Tools at Your Fingertips
While keeping it simple, Demex Lite doesn't compromise on essential tools. You'll still have access to live charts, leverage options, price impact insights, and estimated liquidation prices, giving you the vital information you need for smart trading decisions.
The TLDR
In a world brimming with options, Demex stands out as the DEX that truly understands traders of all kinds. Whether you're a Lite Mode enthusiast or a Pro Mode aficionado, Demex has got you covered. Switch effortlessly between Lite and Pro modes, and trade spot or perpetuals with leverage on a clean, modern interface or the classic view you know and love.
Experience the simplicity, speed, and convenience of Demex Lite Mode. Trade crypto with ease, anytime, anywhere—because trading should be simple, and Demex Lite makes it just that!