DEXiest Features: Tier-based Trading Fees And More
Interact with EVM dApps seamlessly with Demex's newest Metamask integration! Save on trading fees by staking SWTH with the latest fee model.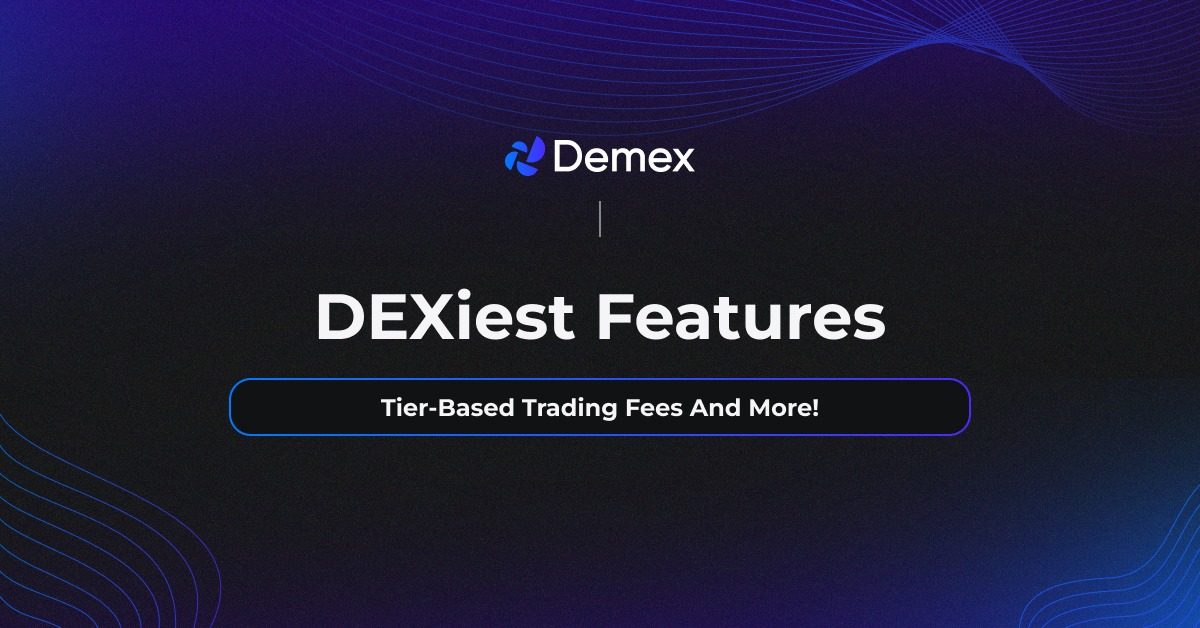 The More SWTH You Stake, The Lower Your Fees! ⤵

Demex has adopted a new tier-based trading fees model. As a decentralized exchange, trading fees are kept low, with 100% of all fees going back to SWTH stakers.
Stake SWTH: Why should you stake SWTH? By staking SWTH, you play an integral role in validating and securing the Carbon chain. As SWTH is the native token of Carbon, you can participate in governance activities for the development of the ecosystem.
By staking SWTH, you earn staking rewards from CDP fees, trading commissions, SWTH emissions, and network fees accrued by all dApps on the Carbon chain. What's even better is you earn rewards in a plethora of L1 tokens and stablecoins such as $ETH, $BTC, $USD, $BUSD, $ATOM and so on.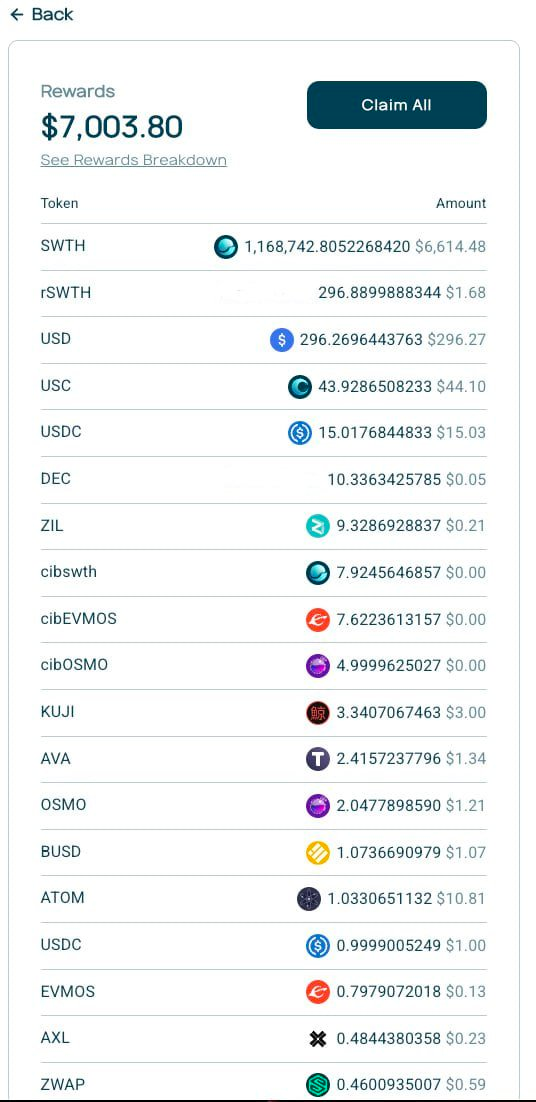 Fee Structure: Based on the amount of SWTH you have staked, you will be allocated to a tier. The tiers are as shown below - plankton, prawn, crab, and so on. The more SWTH you have staked, the lower trading fees you can enjoy!
Fees differ accordingly for spot markets and derivative markets for the various tiers. See the full fee structure in our guide here.
SWTH and rSWTH holders: If you are not staking SWTH at the moment, worry not! We have a special provision for SWTH and rSWTH holders.
With these calculations, your non-staked SWTH and rSWTH will count toward the fee structure. If you wish to decrease your trading fees further, you may consider staking on CarbonHub or Demex.
Say hello to EVM! 👋🏻
Carbon recently announced its EVM operability with one of the latest software upgrades.
What does this mean for Demex and users? Demex is now supported by CarbonEVM to allow you to interact with Ethereum seamlessly!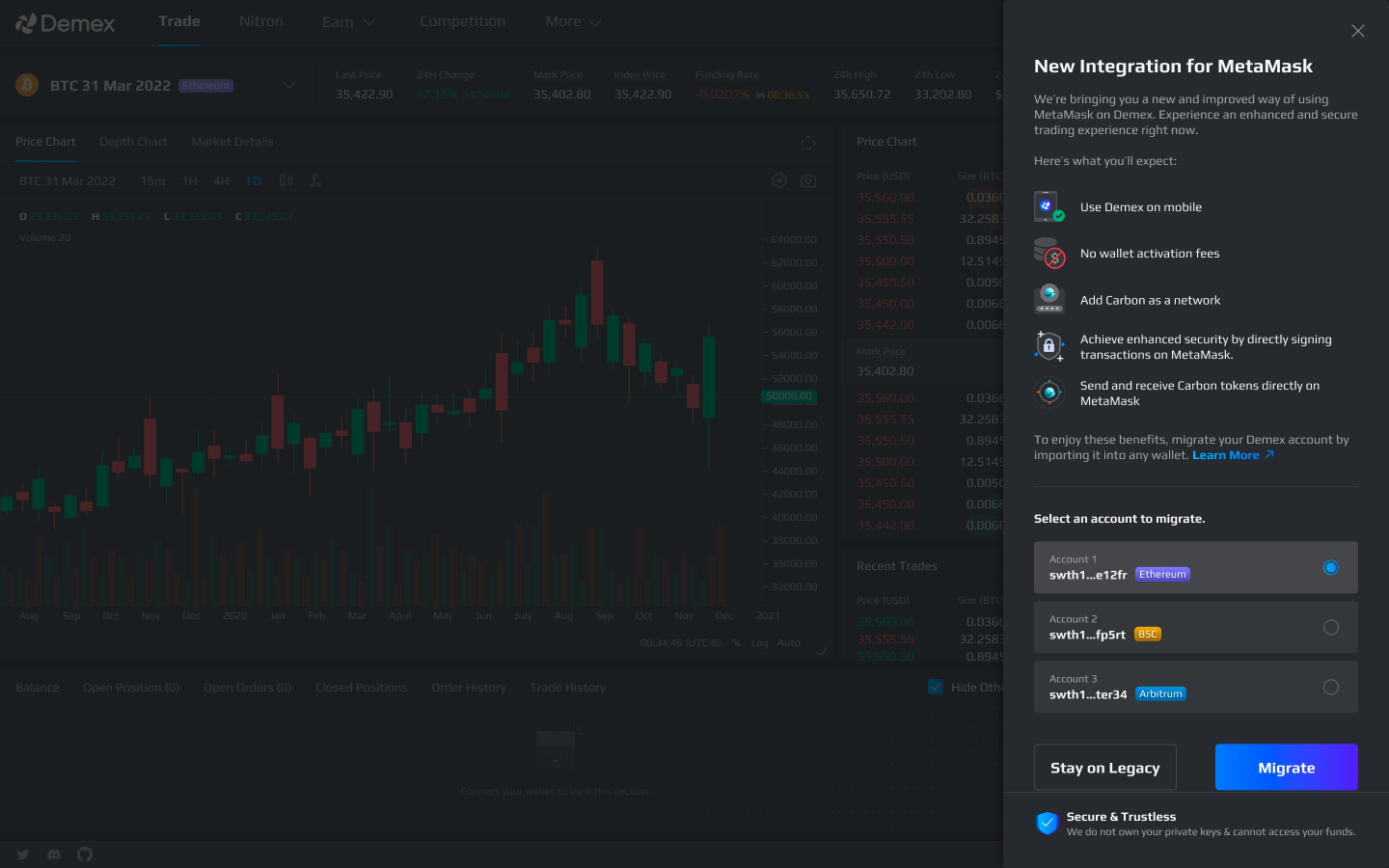 No wallet activation fees: Any and all users from Ethereum ecosystems can directly connect to Metamask and start making transactions without paying the 1-time activation fee!

Demex on Metamask mobile: If you're looking to trade on the go, Demex is available at the tip of your figures to make sure you never miss out on making the trade of a lifetime. With the latest integration of Metamask, Demex is now supported on the Metamask mobile app! Simply launch app.dem.exchange on the in-built browser, connect your wallet and start trading.  
Carbon as a network: As Carbon is now a compatible EVM chain, you can add Carbon as a network on Metamask. This will enable you to view your balances on-chain via your wallet anytime without having to load a Carbon dApp. You can even send and receive Carbon tokens swiftly via Metamask.
Account Migration
Demex users who are currently using the legacy integration of Metamask, please migrate your account at the earliest.
You can follow the step-by-step guide here.
Internal Transfers Dashboard ⚡︎

You can transfer assets on the Carbon chain from one 'swth1..' address to another seamlessly using Demex. To keep track of your transfers, Demex now supports the internal transfers dashboard for you to view all inflows and outflows at your convenience.
The TLDR